The Department of Physics and Astronomy hosted the Space Physics and Astronomy Research Kamp (SPARK) May 20 at  Van Allen Hall. Twelve Iowa City-area high school students attended SPARK, which focused on astronomy, astrophysics, space physics, and promoted the STEM field toward typically underrepresented groups.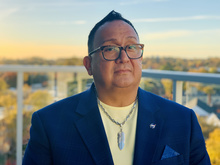 The keynote speaker was Edward Gonzales, Diversity, Equity, Inclusion and Accessibility lead for Heliophysics at NASA Goddard Space Flight Center, who talked about pathways to NASA, and diversity, equity, and inclusion in sciences.
Coordinated by Associate Professor Allison Jaynes and UI students Rebekah Brown and Emerson Peters, SPARK included several activities and opportunities for students to mingle, explore their scientific identities, and learn more about space physics and astronomy. Group sessions included solar observing and a small dome tour in the Van Allen Observatory, an astronomy lab, and a seminar on navigating majority-dominating spaces. The high school students also viewed physics demos presented by Dale Stille and Prof. Vincent Rodgers.