History of the Department
"Annals of a University of Iowa Department, From Natural Philosophy to Physics and Astronomy." This history written by James P. Wells traces the department's beginnings in 1856 as the Natural Philosophy department to 1980.
James Van Allen
Prof. James Van Allen helped the University of Iowa become a world leader in space research, and has been called one of the greatest and most accomplished American space scientists of our time. Learn more about his legacy here.
Leadership in Space Physics
Building on the legacy of space pioneer Dr. James Van Allen, the department is an established leader among universities in Space Physics. Starting with the launch of Explorer 1 in 1958, our faculty and staff have built instruments for spacecraft including Voyager, Galileo, Cassini, Polar, Cluster, Juno, Van Allen Probes, and Magnetospheric Multiscale and sounding rockets. Since then, we have developed instruments flown on 70 spacecraft for 60 successful missions.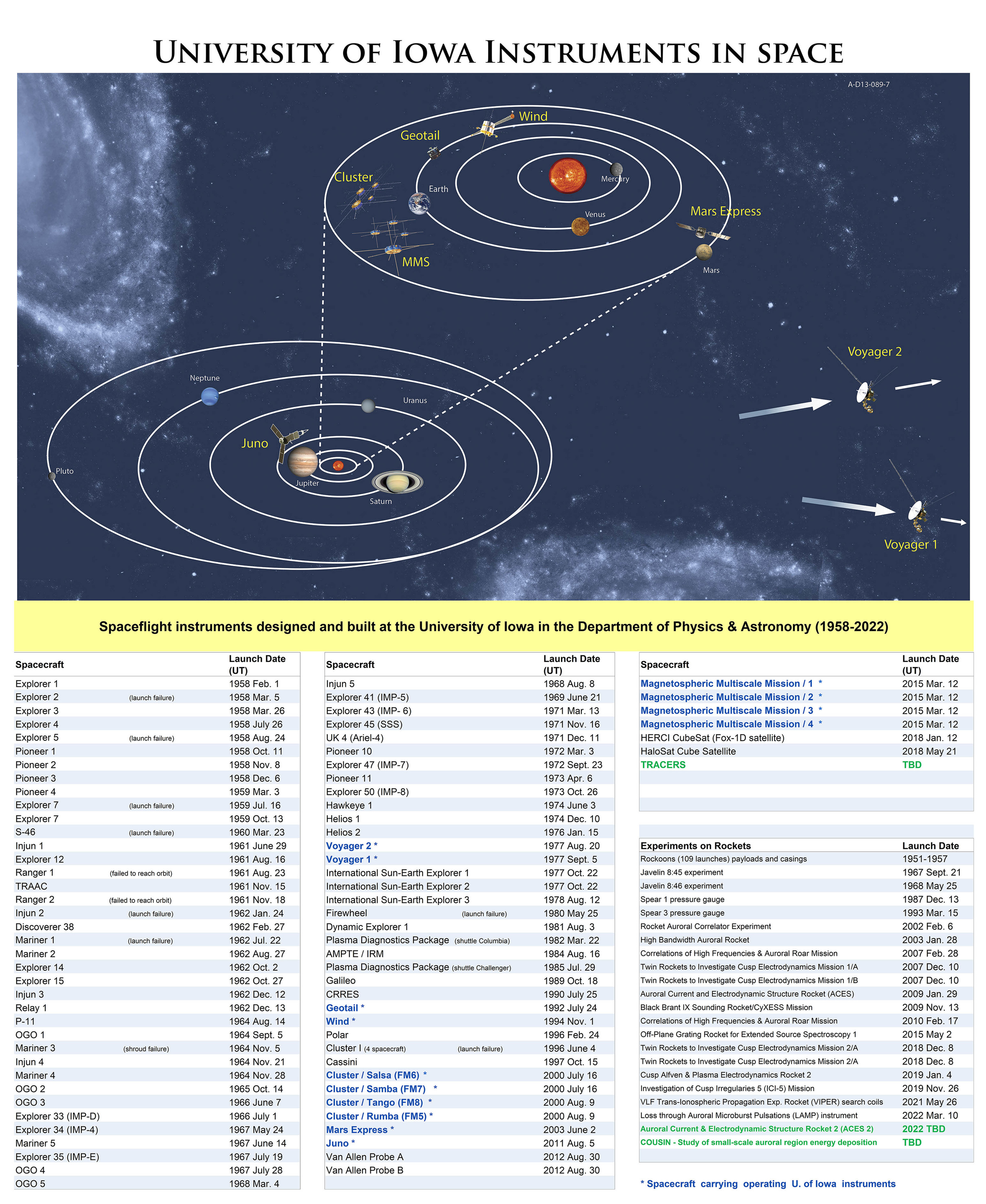 Building History
University of Iowa Dept. of Physics & Astronomy Leadership (1951 to 2021)
1951-June 1985, (Head) James Van Allen
June 1985 - Nov. 1, 1991 — (Chair) Dwight Nicholson
Nov. 1, 1991 - June 1997 — (Chair) Gerald Payne
July 1997 - April 2001 — Departmental Executive Officer (DEO) Wayne Polyzou
May 2001 - June 2009 — (DEO) Thomas Boggess
July 2009 - June 2014 — (DEO) Mary Hall Reno
July 2014 - June 2020 — (DEO) Fred Skiff
July 2020 - December 2022 — (DEO) Philip Kaaret
January 2022- present — (DEO) Mary Hall Reno