Wednesday, April 26, 2023
The Department of Physics and Astronomy honored several students, faculty, and staff for their achievements on April 25 at the 2023 Awards Colloquium.
Undergraduate Awards
Brian D. Strayer & Richard L. Rairden Scholarship in Physics: Arissa Khan, Andrew Milne (renewal)
James A. Van Allen Award: Hank Hammer, Siddharth Nandanwar, Zach Vig
Barry Goldwater Scholar: Jeff Leibterton
Myrtle K. Maier Scholarship: Emerson Peters
Distinguished Achievement Award Recipient: Mel Peters
Distinguished Service Award: Will Golay, Jeff Leiberton
Undergraduate Scholar Award: Susanne Byrd, Will Golay, John Horne 
Van Allen Research Grant Recipient: Stephon Berry, Susanne Byrd, Will Meiners, Aditya Venkatesh
Shoemaker-Strickler Scholarship: Will Parker
Iowa Space Grant Consortium Research Scholarship: Susanne Byrd, Will Golay, Jason Homann, Jeff Leiberton, Christian O'Brien, Jonathan Percy
Andrew Nelson Undergraduate Poster Prize: Jacob Andrews, Aden Hageman
Charles A. Wert Scholarship: Aditya Desai, Owen Fiedorowicz, Kyle Junkunc, Alexander Kay, Jeff Leiberton, Jonathan Percy
Phi Beta Kappa Members: Aditya Desai, John Horne, Philippe Jay, Jeff Leiberton, Siddarth Nandanwar, Brandon Stephanie
Graduate Student Awards
G. William Pfeiffer and Marilyn M. Maltby Scholarship: Jared Termini, Cecilia Fasano (renewal)
Goertz/Nicholson Memorial Scholarship: Sanjay Chepuri
John and Stacey Wall Scholarship: David Fehr
Pfeiffer Family Scholarship Renewal: Sarah Henderson Outstanding Teaching Assistant Award: Sean Gunderson Iowa Space Grant Consortium Graduate Fellowships: Kenny Buffo, David Fehr, Kenton Greene, Sarah Henderson, Kristie Nault
M. Hildred Blewett Fellowship: Kristie Nault Ballard and Seashore Dissertation Fellowship: Daniel Robert Simons, Dustin Swarm NASA Space Technology Graduate Research Opportunity: Jared Termini
Pierazzo International Student Travel Award: Sarah Henderson
NASA/JPL Astrophysics Design School: Jacob Payne
CLAS Dissertation Writing Fellowship: Sean Gunderson
Honorable Mention, AAS High Energy Astrophysics Best Student Poster Presentation "Metrology of an Adjustable X-ray Optic Segment with PZT Actuators": Kenny Buffo
Top Downloaded Paper, Wiley Journal of Geophysical Research: Space Physics "The Diffuse Auroral Eraser": Riley Troyer
Top Paper and Editor's Pick, Physics of Plasmas "Observing Particle Energization Above the Nyquist Frequency: An Application of the Field-Particle Correlation Technique": Sarah Conley
Staff Award
Mary Louise Kelley Professional Development Award: Dale Stille
Postdoc Awards
D.C. Spriestersbach Dissertation Prize: Stephen McMillan, Ph.D.
International Travel Award: David Hartley, Ph.D.
Top Downloaded Paper, Wiley Journal of Geophysical Research: Space Physics "The Importance of Electron Landau Damping for the Dissipation of Turbulent Energy in Terrestrial Magnetosheath Plasma": Arya Afshari, Ph.D.
Faculty Awards
CLAS Collegiate Scholar Award: Professor Jasper Halekas
CLAS Dean's Scholar Award: Professor Allison Jaynes
Harriet and Harold Brady Chair in Laser Physics: Professor Frederick Skiff
American Physical Society Fellow: Professor Craig Kletzing
Iowa Innovators of the Year: Professors John Prineas and Fatima Toor
Lev D. Landau and Lyman Spitzer Jr. Award: Professor Gregory Howes
OVPR Early Career Scholars Award Recipient: Professor Ravitej Uppu
Outstanding Referee, APS Physical Review Journals: Professor Mary Hall Reno
Faculty Promotion
David Miles, promotion to Associate Professor with tenure.
The program concluded with three student presentations:
Will Golay: "The Iowa Robotic Observatory and the MACRO Consortium" Faculty Mentor: Robert Mutel, professor emeritus.
Hank Hammer: "Effect of Core Geometry on Spatial-encoded Quantum Information Transfer via a Multimode Fiber" Faculty Mentor: Professor Ravitej Uppu
Siddharth Nandanwar: "Low-temperature infrared characterization of anisotropic van der Waals heterostructures" Faculty Mentor: Professor Thomas Folland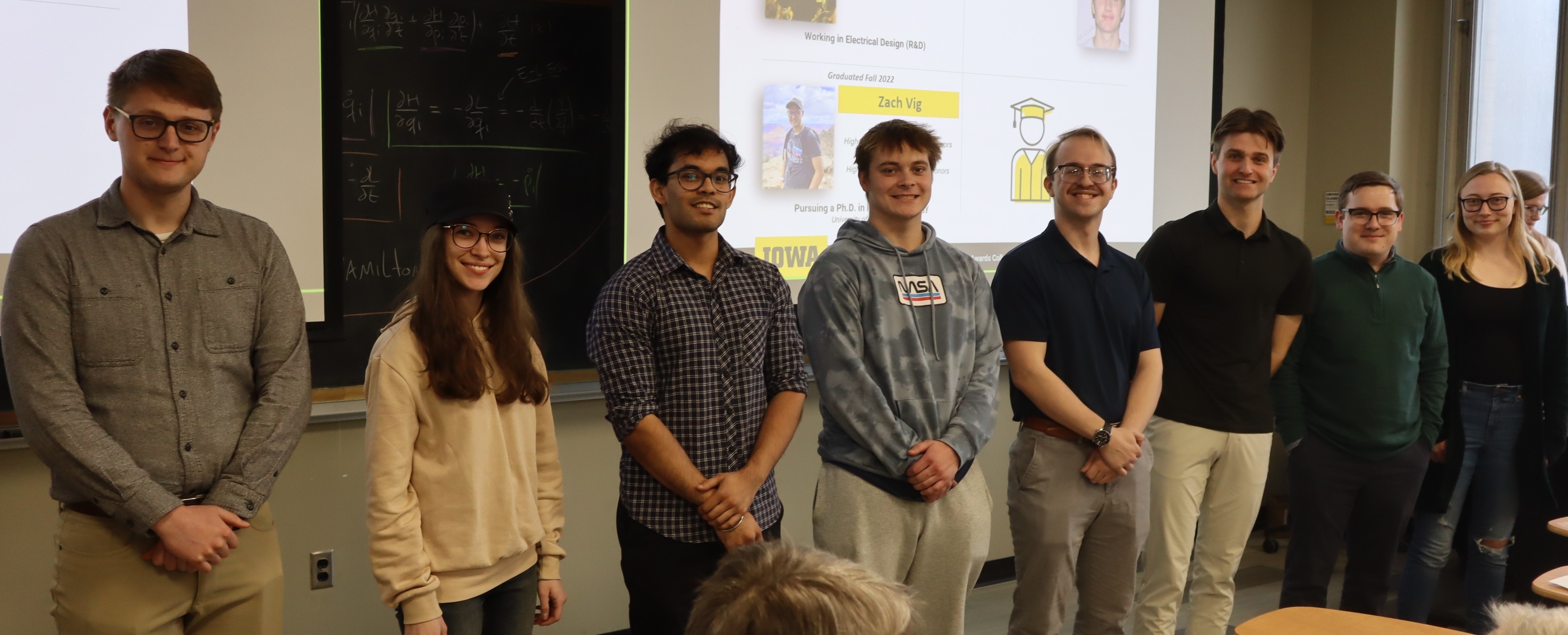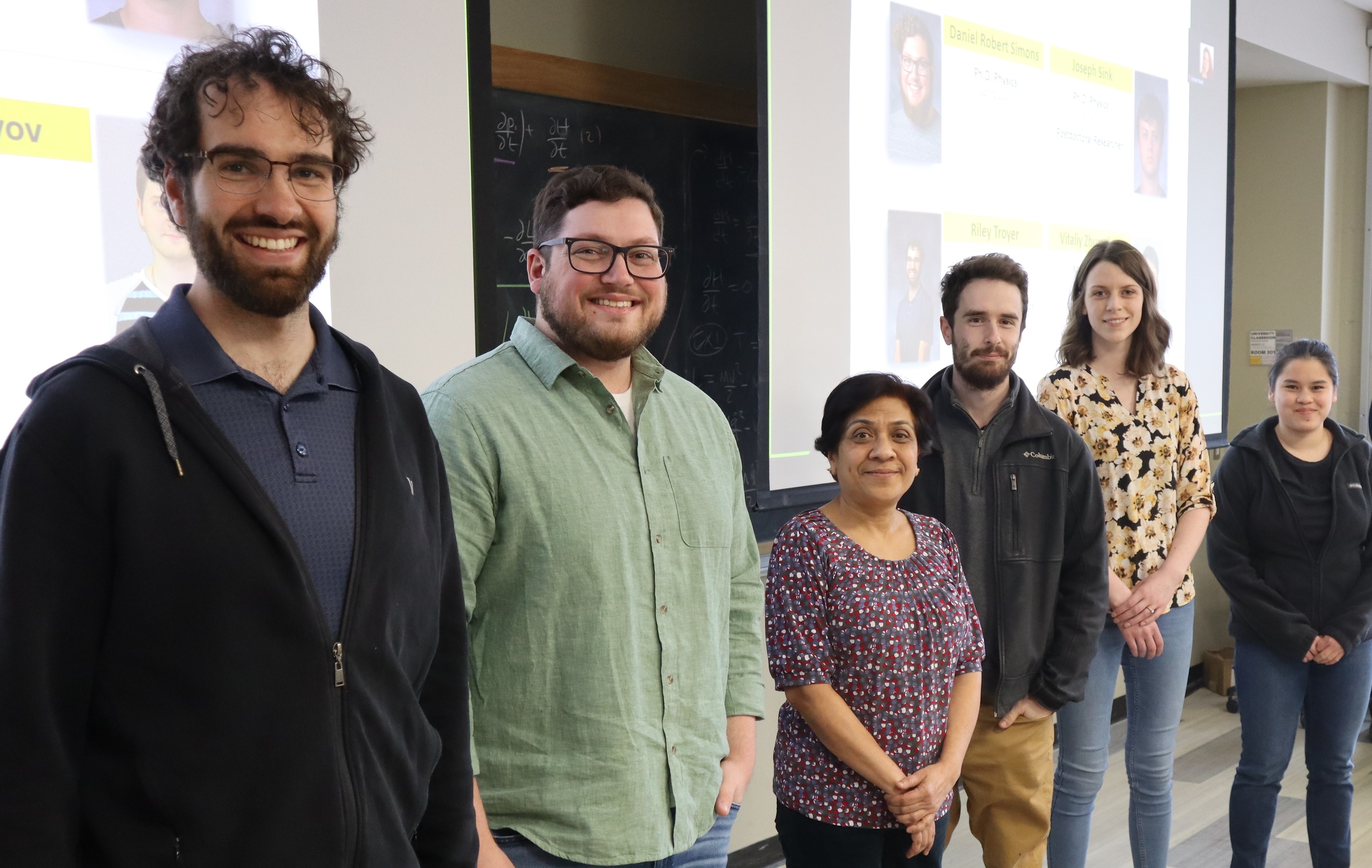 See the awards colloquium program for the complete list of awards and graduates.