The event January 20 to 22 brought roughly 100 undergraduate women and gender minority students to campus to learn more about the industry and how to advance in what is currently an under-represented field.
By Emily Delgado 
Women in physics have been grossly underrepresented for decades, but a recent conference hosted by the UI Department of Physics and Astronomy, a program housed in the College of Liberal Arts and Sciences, is working to help change that.  
The American Physical Society selected Iowa to host a regional Conference for Undergraduate Women in Physics, or CUWiP. The January event brought dozens of undergraduates from the UI and other Midwest colleges and universities to Iowa City to learn about the industry, how to get involved in research, and best practices for applying to graduate school.  
"We wanted to give students exposure, first and foremost, to a professional conference experience," Sarah Henderson, a conference organizer and PhD student studying physics at Iowa, explains "Also allowing undergraduate women to participate in panels and workshops while developing a better understanding of what it means to be in physics."  
The conference also explored tougher topics, like the reality of being a minority in the field—offering advice from experienced female professionals about how to respond to a challenge many female students are currently facing in the classroom.  
"I walked into a class of 13 PhD Students, I was the only woman," Henderson says, of her own experience. "It's intimidating, but I think we have a unique perspective to offer."  
This lack of representation is slowly changing in the field—thanks in part to events like this conference, offering support for future female physicists.   
"As a discipline, we are missing talented scientists by either not recruiting them in the first place or failing to retain them in the field," Casey DeRoo, an assistant professor in the UI physics department and conference co-chair says. "This conference is one step among the many we ought to take to ensure that we intentionally cultivate that talent."  
The three-day event included panels, discussions, and an opportunity for undergraduate students to present their research. Mary Haag, a second-year student studying physics at Iowa, showcased her work during the conference. She says in addition to the career development opportunities, she is grateful to hear from professional women who are currently making an impact in the field.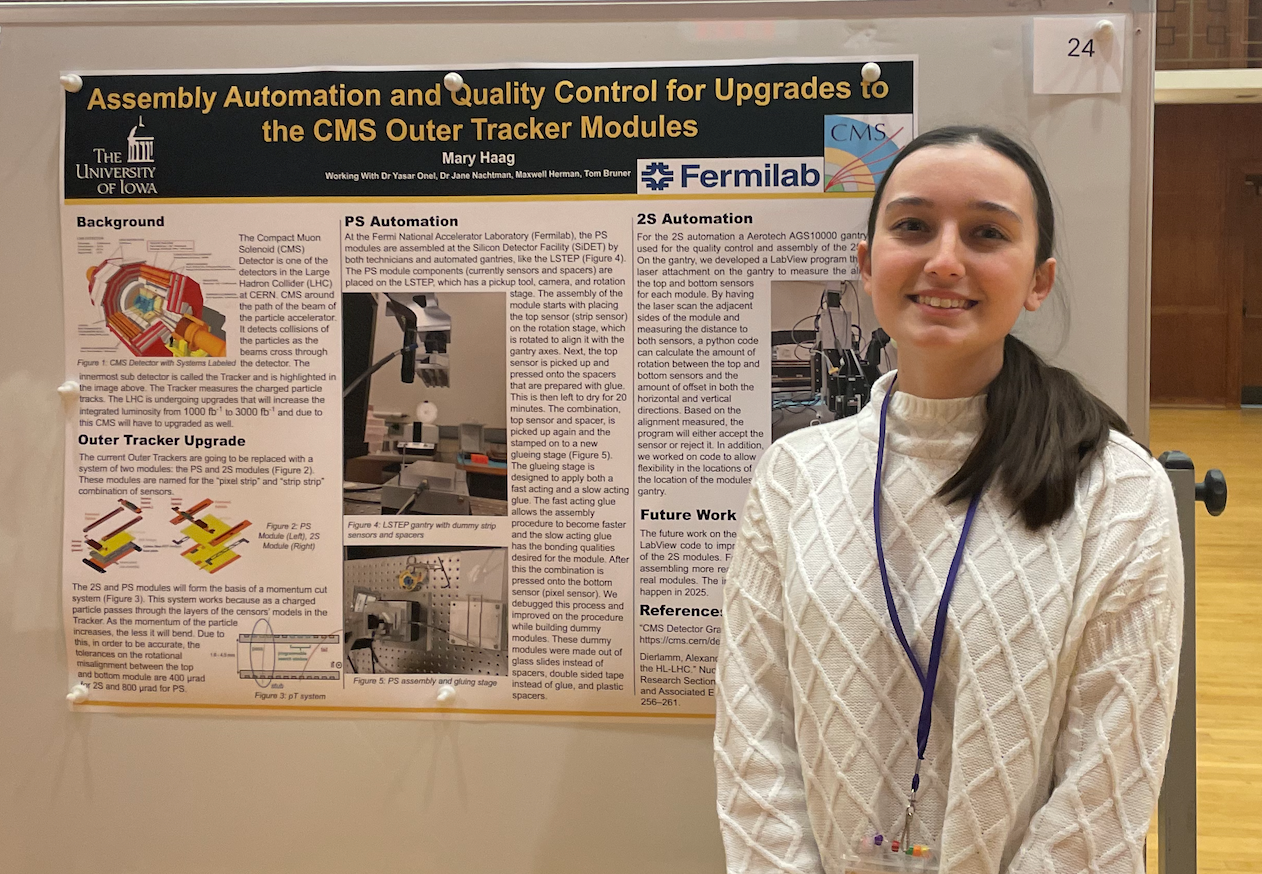 "I really liked learning from their experiences and hearing what they went through because they have trail blazed in the industry and have given us motivation as the next generation of scientists," Haag says. 
The University of Iowa served as an exciting location for the conference, as it has a storied history in space physics, featuring a long line of UI astrophysicists who have led NASA missions. Including James Van Allen, who famously discovered the radiation belts that surround Earth and Don Gurnett who designed and built instruments for 35 space missions.  
That momentum continues today with exemplary faculty members and role models like Allison Jaynes, who serves as a co-investigator on two NASA missions and is a member of the prestigious Solar and Space Physics Decadal Survey Steering Committee, as well as Mary Hall Reno, an internationally recognized particle physicist, Fellow of the American Physical Society, and current department executive officer. 
In addition to housing talented faculty mentors and teachers, UI physics offers numerous research opportunities to its undergraduate students, says Rachael Filwett, a conference co-chair and Assistant Professor at Montana State University.  
"There's a lot of faculty who host undergrads over the summer, who are often paid to do the research—or they might do it for senior projects, they work over the school year," Filwett, a former UI postdoctoral researcher, explains. "Undergrads regularly participate in research in the UI physics department."  
The overarching goal of CUWiP is to help undergraduate women continue in physics—and many participants felt that support during the event at Iowa.  
"Physics is very homogenous right now," Filwett says. "We want to bring all of these women from different races and ethnicities into the field and have them feel welcomed because they are all so talented."