Physics student Owen Fiedorowicz and students in the Edge of Space Academy presented their research at the Summer Undergraduate Research Conference on July 26 at the Iowa Memorial Union.
Sponsored by the University of Iowa Graduate College, this conference brought together undergraduate students who have been conducting summer research projects in UI departments and programs across the University's colleges.
Working with faculty mentor Prof. Vincent Rogers, Fiedorowicz presented a poster "Geodesic Deviation and TW Gravity." 
The 2023 Edge of Space cohort is being Eleven undergraduates from Iowa and across the country participated in the Edge of Space Program,  a summer course that provides research experience in space-based instrumentation for observing Earth and space. Students built small instrument payloads that will be mounted on a drone and a high-altitude balloon to take measurements of the Earth's atmosphere and space environment above. The Edge of Space Program is led by Allison Jaynes, associate professor in the Department of Physics and Astronomy, and Susan Meerdink, assistant professor in the Department of Geographical and Sustainability Sciences.
Edge of Space poster presetantions were:
Jason Homann, Robert Bradle, Alba Bon, and Maryam Mafuri (Team ALEX-CE) presented " Aerial LiDAR Examination and Conservation of Ecology (ALEX-CE)." 
Henry Krain, Klara Kjome Fischer, Naysha Jain, and Meklit Shiferaw(Team BALANCE) presented "Balloon Altitude Analysis of Cosmic Ray Flux Experiment."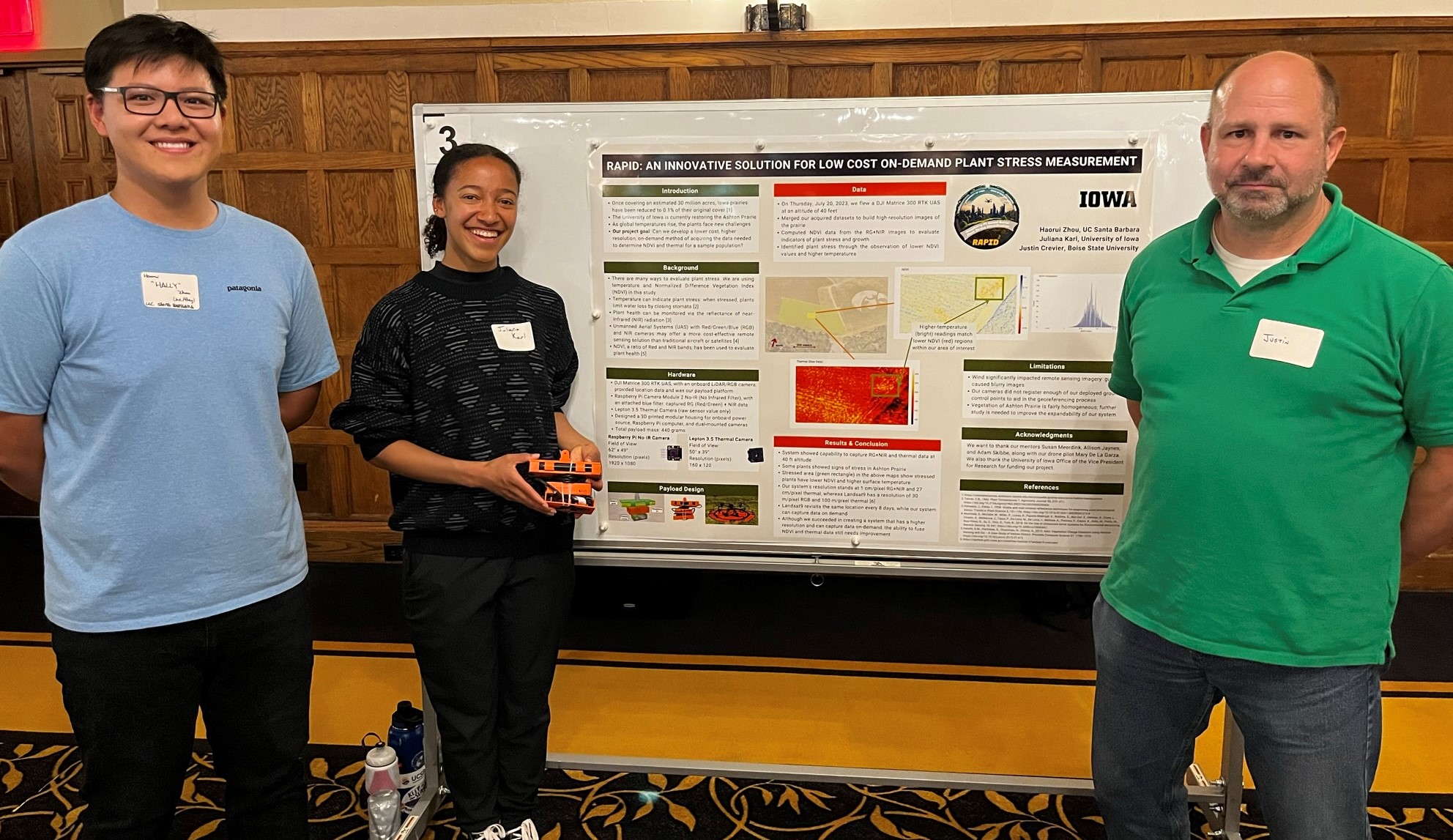 Juliana Karl, Justin Crevier, and Hally Zhou "Team Rapid" presented "Raspberry Pi-Based Aerial Plant Stress Identification"